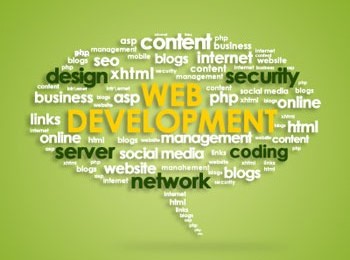 A solution with comprehensive features that is easy to use for new online businesses, yet powerful enough for the most demanding. Today's website must be designed in such way that is could communicate user very easily and gives all the required information. It means it should be very easy going and works very fast. Our team gives full dedication to create responsive web design.
We talk about development than we talks about the coding aspect of creating the website. We have some extremely talented developers who works of the major platform, language, frameworks and tools and create an amazing website.
Open source tools
wordpress: is the backbone of creating and managing numbers of website. The SEO optimisation, easy contact management and the plethora of themes available make wordpress a default choice for a website platform. The newer plugins like e commerce enable the much desired functionality of an e commerce website and making the platform ever so desirable. This accomplished through plugins, themes or a combination of both. using free and premium plugin options are the best one to use because when comes to adding functionality to a website, it works very well.
Joomla – it is one of the free open source platform with diverse extensions and stunning templates. It is built on view controller we application framework that can be used all by one self of the cms. Today some of the most respect and well know companies used talked about joomla and one of award wining cms used by millions around the world.
Drupal – Drupal has a choice of web developers because of two major reasons –long term business security and Enterprise class scalability. The highly customisable platform provides rapid and agile web development. It can create numbers of popular widgets block, displaying different combination of services and intervals. It gives full entity support and multiple instance of any service. Multiple blocks, remote blocks with some additional analytics integrations like most shared and most commented are new services added to this.
Languages
PHP – PHP hypertext pre-processor is a programming language that allows a developer to create dymnamic content manly focused on server side scripting so that you do anything such as collect form data, generate dynamic page content or send and receive cookies and much more. There are three main areas where PHP scripts is used – server side scripting, command line scripting and writing desktop application. It can be used on all major operating systems like Linu, Unix, Microsoft windows, mac os x and others. With PHP you have no limits to output HTML. It support for talking to other services using different protocols.
HTML 5 – HTML 5 is mother tongue of internet used for structing and presenting content on the World Wide Web. It is the fifth and latest version of HTML standard. HTML make creating accessible sites easier for two main reasons : semantics and ARIA. HTML includes many other features like web worker, geolocation, drag and drop, cross documentation messaging and many more. HTML 5 also supports two major new features for form fields. The first of these is autofocus which tells a browser to automatically give focus to a particular form field when the page has rendered, without requiring Java Script code to do so. The second enhancement is the placeholder attribute which allows the developers to define the text that will appear in the text box based control when its contents are empty.
.NET - The .NET Framework is a technology that supports building and running the next generation of applications and XML Web services. The .NET Framework is designed to fulfill the following objectives: To provide a consistent object-oriented programming environment whether object code is stored and executed locally, executed locally but Internet distributed, or executed remotely. To provide a code-execution environment that minimizes software deployment and versioning conflicts. To provide a code-execution environment that promotes safe execution of code, including code created by an unknown or semi-trusted third party. To provide a code-execution environment that eliminates the performance problems of scripted or interpreted environments. To make the developer experience consistent across widely varying types of applications, such as Windows-based applications and Web-based applications. To build all communication on industry standards to ensure that code based on the .NET Framework can integrate with any other code.
JAVA – java is an object oriented language similar to c++ but simplified to emilimnate language features that casue common programming errors. Java source code files are complied into a format called bytecode which than can be excuted by java interpreter. Small Java application used are called Java Applets and can be downloaded from a Web server and rin on your computer by a Java compatible web browser. A flow of control is known as thread. When any language excute multiple threads at a time that language is know as multithreaded language. It is mainly designed for web applications, J2EE is used for developing network based application.
CSS - CSS is an extremely powerful style sheet language which is used to control the look and feel of the content written in HTML. With CSS, we are able to create rules, and apply those rules to many elements within the website. This approach offers many advantages when site-wide changes are required by a client. we are able to keep every visual aspect of the website completely separated from the content, using CSS when designing our websites allows us to quickly create layouts, and troubleshoot any problems. We know that regardless of the page, we control all elements from one (or several) stylesheet. Aside from consistent display standards, one of the greatest benefits of using CSS is if you use external style sheets, you can make one change to the style sheet and have that change take place throughout your entire web site.